Steel is a popular material for construction and fabrication projects because of its durability, rust resistance, and sturdiness. However, cutting through steel can be a challenging task, especially without a saw.
In this article, we'll share multiple methods to help you understand how to cut steel without a saw effectively and efficiently. Whether you're a professional metalworker or a DIY enthusiast, these techniques will help you tackle your steel-cutting projects with ease.
How to Cut Steel Without a Saw
The following are some effective methods that you can use to cut steel if you don't have any type of saw.
Plasma Torch
A plasma torch is a tool that uses a high-temperature, ionized gas stream to cut through metals, including steel. Here's how you can use a plasma torch to cut steel.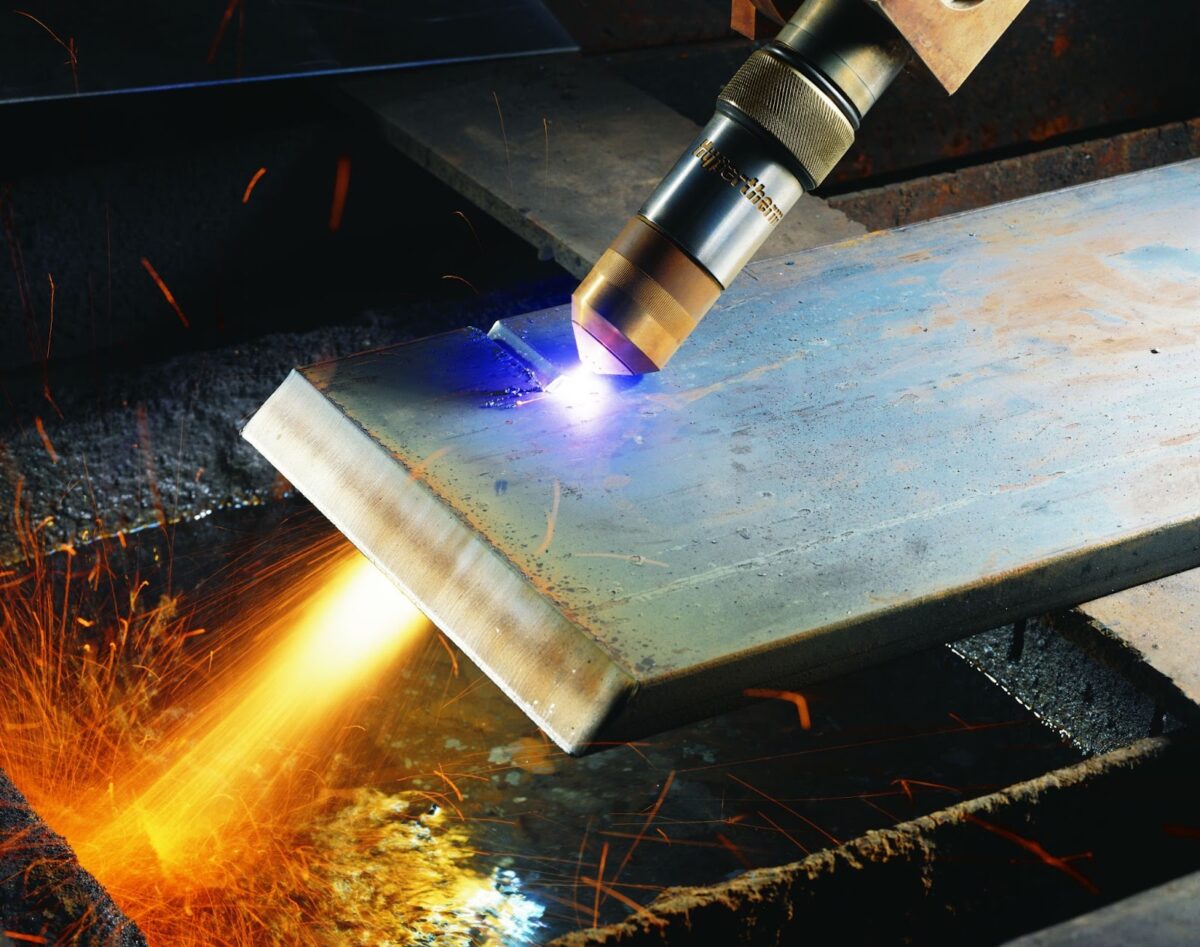 Take measurements and mark your workpiece carefully.
Secure the workpiece on a workbench using a table vice. It's important to make sure that the area you want to cut is sticking away and is not in contact with the table's surface to prevent damage.
Wear welding shades, heavy-duty gloves, and a facemask to ensure safety.
Turn on the plasma torch and adjust the amperage and air pressure settings according to the thickness of the steel you're cutting.
Bring the torch tip near the workpiece and keep it at a 90-degree angle to the surface.
Press the trigger to start the plasma stream, and move the torch slowly along the cutting line.
Continue moving the torch until you have cut through the entire thickness of the steel.
Once you're done, turn off the plasma torch and let it cool down before putting it away. Additionally, don't touch the workpiece without gloves until it has come to room temperature.
Angle Grinder
An angle grinder is a handheld power tool commonly used in construction and metalworking to cut, grind, and polish materials. It's also a good alternative to cutting fire bricks without the use of a saw. Use the following steps to cut steel using this tool.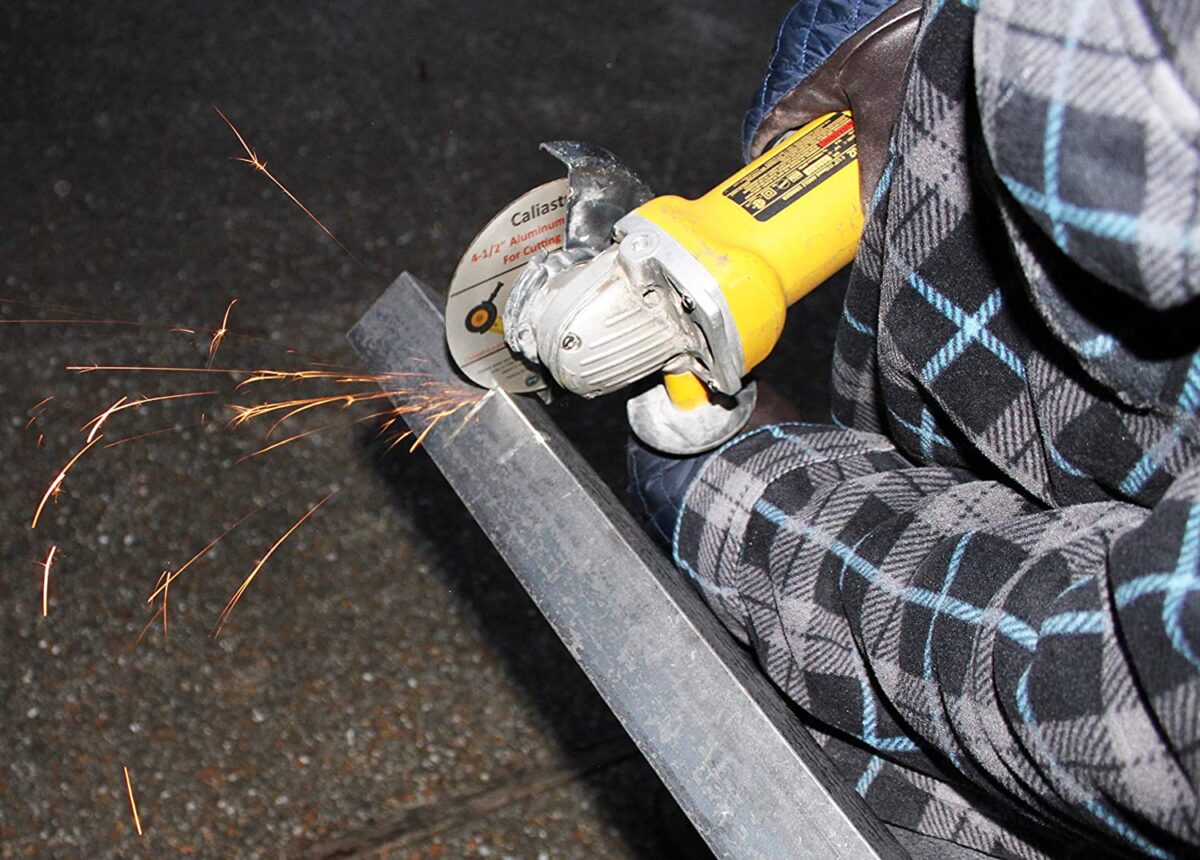 Choose the appropriate cutting disc for cutting steel. The Caliastro Cut-off wheel is a good option, yet many others are available on the market.
Mark the cut line(s) on the steel piece you want to cut.
Secure it in a vice or clamp to keep it steady while you work.
Ensure your safety by wearing welding shades, work gloves, and a face mask. It's also important to tie any long hair and not to wear loose clothing and dangling jewelry, as they can get stuck in the tool and lead to an injury.
Turn on the angle grinder and let the blade reach its maximum speed.
Hold the grinder with both hands and make sure its blade is at a 90-degree angle to the workpiece.
Apply gentle pressure and slowly move the blade along the cutting line to avoid creating jagged edges.
Turn off the grinder after completing the cutting process.
Let the tool and workpiece cool down.
Metal Cutting Snips
Metal cutting snips, as the name suggests, can be used to cut thin sheets of metal, including steel. While they come in various shapes and sizes, they all work on the same principle: two sharp blades are used to cut through the metal.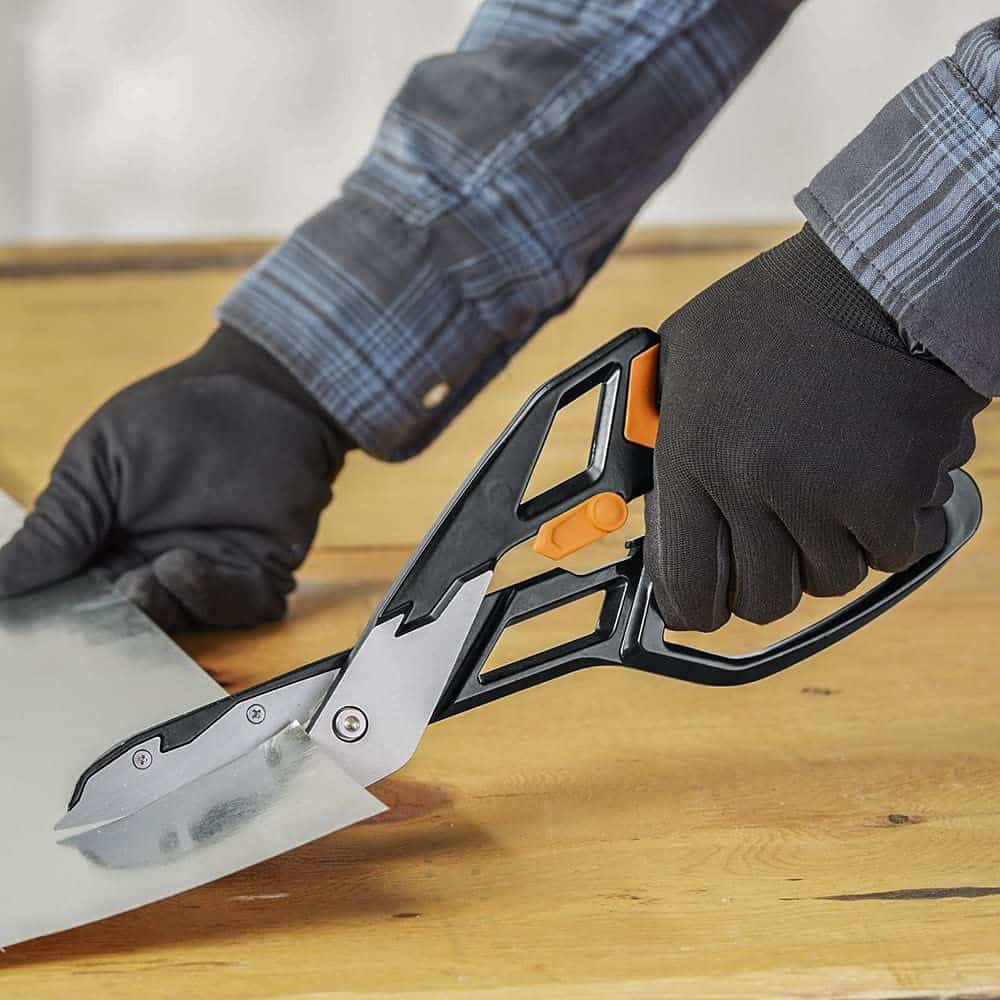 The following steps will help you use this tool to cut steel.
Look for snips designed specifically for cutting metal, such as the Fiskar PowerArc snips, which can cut through 22-gauge cold-rolled sheet metal.
Wear heavy-duty gloves to protect your hands.
Use a straight edge or ruler to mark the cutting line on the steel sheet.
Grab the tool in your dominant hand and use the other to pick up the steel sheet.
Place the cutting snips at the starting point of the cutting line.
Apply firm pressure and squeeze the tool's handles together to cut through the metal.
Move the tool along the cutting line and continue cutting using the same technique until finished.
Nibbler
A nibbler is another handheld tool that can help you cut steel sheets. It works by punching a small hole in the sheet and cutting along a curved or straight line.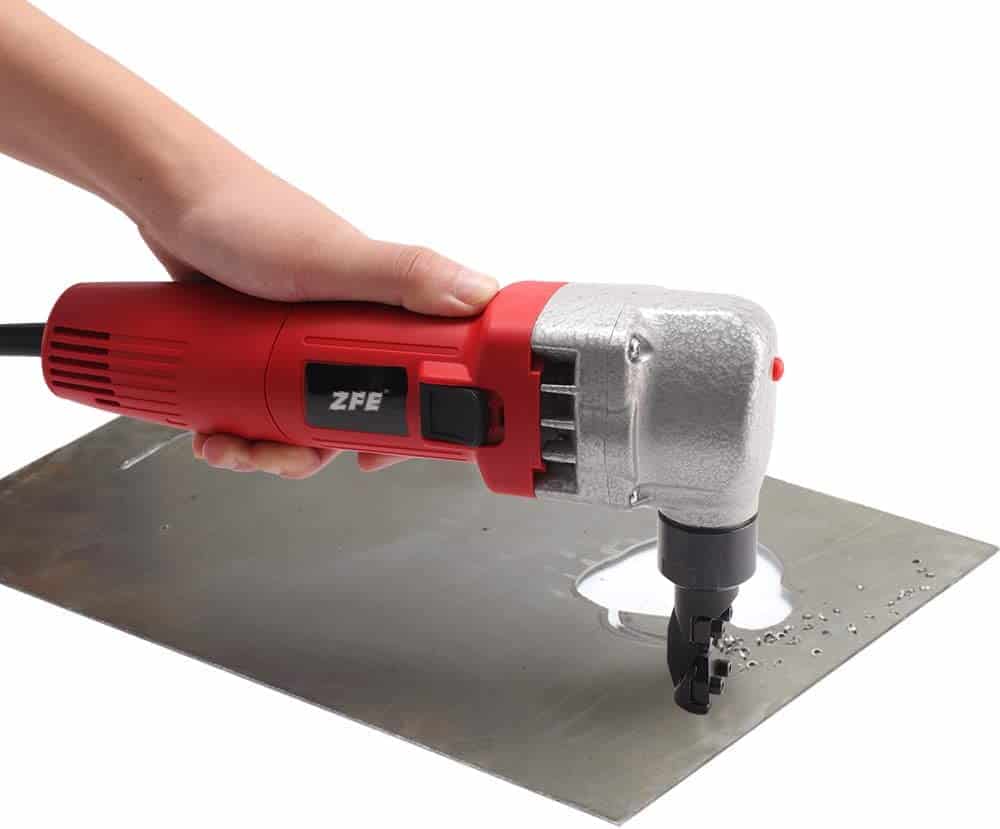 Here are the steps to cut steel using a nibbler.
Choose the appropriate nibbler for cutting steel. Look for models designed specifically for cutting metals, and make sure it's compatible with the steel thickness you want to cut.
Take safety measures, like wearing gloves and safety goggles. I also recommend you wear earmuffs because nibblers make a lot of noise.
Mark cut lines on your workpiece and secure it on a worktable properly. The tool will create a lot of vibration during the cutting process, so ensure your workpiece is secured properly.
Grab the nibbler using both your hands and position it at the starting point of the cutting line.
Make a small hole in the sheet by pulling the trigger.
Keep the trigger pulled and start moving the tool along the marked line.
Once the cutting process is complete, turn off the tool.
Dremel Tool
You can also use a Dremel tool to cut through steel sheets, cut a quarter round, use it cut a pegboard, and even cut a hockey stick. Here's how you can complete this process.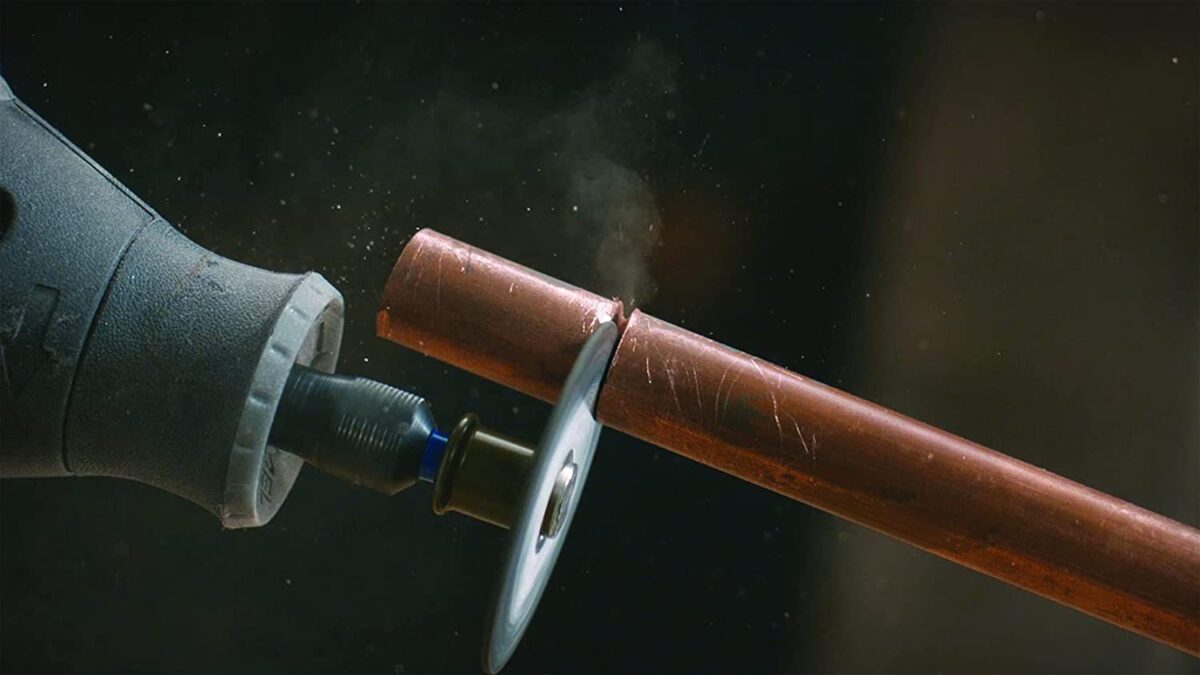 First, choose the Dremel attachment that can cut through steel, like the EZ406-02 cut-off wheel.
Mark the cutting line on the workpiece and secure it on a table with clamps. Don't forget to confine long hair, remove dangling jewelry, and change loose clothes.
Attach the cutting wheel or disk to your Dremel tool and tighten it securely.
Wear safety goggles, gloves, and a face mask to ensure your safety.
Turn on the tool and hold it steady against the steel piece. The cutting wheel or disk must be perpendicular to the cutting line.
Apply firm pressure to the Dremel tool and move it along the cutting line.
Turn off the tool after completing the cutting process.
Safety Tips to Follow While Cutting Steel without a Saw
The following are other important safety precautions to take while cutting steel without a saw.
Keep the cutting area free of flammable materials and liquids while using power tools. That's because they create sparks, which can lead to accidents.
Use a fire extinguisher rated for Class D fires, just in case of an emergency.
Never touch the workpiece, cutting tool, or any metal parts of the equipment while they are still hot. It also applies when cutting thick plastic without a saw.
Avoid cutting near electrical wires, gas lines, or other hazards that could cause an accident.
Always follow the manufacturer's instructions for the equipment and tools being used.
Take frequent breaks to avoid fatigue, which could affect your ability to handle the equipment safely.
Keep your pets and kids away from your working area.
Never leave your workspace without turning off all the tools.
The floor of your workspace should be dry, and it must not be slippery.
Frequently Asked Questions
Here are the most frequently asked questions about cutting steel without a saw.
What Is the Easiest Way to Cut Steel Without a Saw?
The easiest and most convenient way to cut steel without a saw is to use an angle grinder equipped with an abrasive metal-cutting disc. This method is popular among DIY enthusiasts and professionals due to its ease of use and affordability.
Can You Cut Steel With Water?
Yes, you can cut steel with water using a water jet cutting machine, capable of producing exceptional results. However, these machines are expensive and typically used for industrial and commercial applications.
Final Words
There are multiple ways to cut steel without a saw, each with its own set of advantages and disadvantages. An angle grinder with an abrasive metal-cutting disc is a popular and relatively affordable option while a plasma torch can offer quick and efficient cuts.
Other methods, like cutting snip or a Dremel tool, may be suitable for smaller jobs. I hope you now understand the correct ways to cut steel for your DIY projects if you don't have a saw.