Biking is a popular hobby; some people even use it as a means of transportation. Bikes are great for saving on gas. Bikes also need maintenance. This is why you're probably looking for the best air compressor for bike tires to fill your maintenance needs.
My Top Air Compressor Recommendations for Bike Tires
Gas prices are rising, and it seems that it may take some time for them to go down. Hence, I see a rise in people using bikes daily. However, tires do run out of air after some time. That's why it's great to have an air compressor for bike tires at home.
Brand
TEROMAS Tire Inflator Air Compressor
AstroAI Air Compressor Tire Inflator Portable Air Pump
FORTEM Tire Inflator Portable Air Compressor
Product
Brand
TEROMAS Tire Inflator Air Compressor
Product
Brand
AstroAI Air Compressor Tire Inflator Portable Air Pump
Product
Brand
FORTEM Tire Inflator Portable Air Compressor
Product
Best Overall Air Compressor for Bike Tires: TEROMAS Tire Inflator Air Compressor
When it comes to overall performance, the TEROMAS Tire Inflator Air Compressor has everything you need for inflating tires. Unlike most compressors for bike tires, this one has a 110V wall plug and a 12V DC power plug. You won't need to buy a separate converter adaptor for operating.
The maximum pressure capacity of this compressor is 150 PSI which can run for 15 minutes straight consistently. You can inflate your tires with ease, along with other regular inflatables. Some heavy-duty applications may not be possible, though.
When it comes to pumping, the TEROMAS compressor is the 2nd fastest on this list, just behind the PI Store Air Compressor. You can blow a flat bike tire in under a minute. You can even blow a flat car tire in just about 4 minutes.
Operating the compressor is easy; you only need to turn it on and set it to your preferred air pressure. You can then press start, so the auto shut-off feature starts. This automatically shuts down your compressor after reaching the set PSI level. It helps protect your tires from hyperinflating.
However, one downside I notice is some people experience the product breaking down in a few uses. This may be because of improper use and not reading the manual. Make sure you read the manual before using it.
Overall, it's an excellent compressor that will work well with your tires for bikes.
Pros
Detachable power cords for easy storage
Auto shut-off system prevents using too much air pressure
It has a high PSI rating compared to most compressors
Super compact design for portability
Cons
It may take some time to reach higher pressures which is bad if you want a quick fix
It can easily break if used improperly, so you should know how to handle it first
Sale
TEROMAS Portable DC/AC Tire Inflator Air...
AC/DC OUTLET & MULTI-PURPOSE: TEROMAS tire inflator unique AC/DC with 12V car cigarette light plug...
STRONG POWER & SPACE-SAVING: Up to 150 PSI, Inflate the P195/65R15 car tire from 0 to 35psi under...
PROGRAMMABLE INFLATION: Use the "R" button to set your desired pressure unit, and then press the "+"...
Best Portable Air Compressor for Bike Tires: AstroAI Air Compressor Tire Inflator Portable Air Pump
The AstroAI Air Compressor Tire Inflator Portable Air Pump is one of the best portable compressors you can have. It uses high-quality materials and can pump tires fast and with ease.
You can even inflate a car tire from 0 to 35 PSI in just under 5 minutes which is just a minute slower than the TEROMAS Tire Inflator Compressor. It's professionally calibrated, so it will always have a reading within 1.5% of the pressure of your bike tire.
It is easy to operate too much like the TEROMAS Tire Inflator Compressor. Just press the "M" button to set your desired pressure unit. You can then set the pressure by pressing either the "+" or "-" buttons. It also automatically shuts off when you reach the set pressure.
You can also operate it easily at night or without lights since it has a white backlight on its LCD screen. It also comes with an integrated LED flashlight for emergency purposes.
You can use the AstroAI Compressor for different applications, including cars, motorcycles, bicycles, cushions, balloons, and even mattresses.
However, some downsides include the chance of getting a defective component. They are very responsive to inquiries so you will get a fast replacement. Another downside is that you can't operate the device for over 10 minutes of continuous use. You have to let it rest and cool down.
Pros
Small compact build for portability and can be carried easily
It can be used for a wide range of applications and other inflatables
Can change the pressure unit with ease, allowing for better
It can operate in the dark thanks to its integrated lighting
Cons
Limited continuous use for 10 minutes only with a long resting time
Not as high PSI as the TEROMAS compressor
Sale
AstroAI Tire Inflator Portable Air Compressor Air...
FAST INFLATION & ADVANCED ACCURACY: High-quality materials were sourced for this tire inflator as it...
PROGRAMMABLE INFLATION: Use the "M" button to set your desired pressure unit, and then press the "+"...
PRODUCT HIGHLIGHTS: One-click to change pressure units among PSI, kPa, BAR and KG/CM; Large white...
Best Air Compressor for Bike Tires at Night: FORTEM Tire Inflator Portable Air Compressor
The FORTEM Tire Inflator Portable Air Compressor is a compact portable compressor built with everything you need if you want to inflate your tires in the middle of a dark night. You can take it inside your car in case of emergencies. It has a 14-feet power cable for better flexibility in night applications.
It has a super bright automatic LED flashlight to fill the air on your tires even in the middle of darkness. It's also great for roadside emergencies if your car tire needs air. The LED lighting is almost the same, if not better, than the AstroAI Compressor.
Just like the first two compressors mentioned, this one is also easy to use. You can even connect it to the car plug to operate. Just set it to your desired PSI and wait for the display to stop blinking. Then you can turn it on to fill your tires with air. It also automatically turns off once the set PSI is reached, just like the previous two compressors.
It's also multi-purpose and can be used to inflate car tires and motorcycle tires. It comes with three nozzle attachments which you can use for air mattresses, sports balls, and other inflatables.
The only downside I can find with this compressor is that it can only operate for a short time, as indicated in its manual. I would also like the cord to be longer for car storage.
Pros
Super bright LED flashlight for nighttime use
14-feet cable for a variety of application use
Easy to operate and manual is easy to understand
Cons
The cord could be a bit longer to gain access to the back of a car (where the bike is usually placed)
It can only operate for a short time before needing to take a long rest
FORTEM Tire Inflator Portable Air Compressor 150...
Portable and Compact - Take your Fortem air compressor for car with you and be ready for any...
Multi-purpose - Perfect for car, truck, suv, motorcycle tires. Includes three nozzle attachments for...
Built-In Safety Features- Super bright automatic LED flashlight makes our car air pump suitable for...
Best Air Compressor for Bike Tires with Digital Pressure Gauge: AVID POWER Tire Inflator Air Compressor
The AVID POWER Tire Inflator Air Compressor comes with a digital pressure gauge that can be useful. The digital pressure gauge allows you to monitor the pressure, and it's easy to use cause of its electronic display.
It's built super compact and portable with a powerful compressor with a capacity of 100 PSI. The pumping speed of this compressor is fast and can be compared to the TEROMAS Tire Inflator Compressor. This compressor can quickly inflate at least three bike tires in only five minutes.
It has a built-in auto shut-off feature with a 1% error reading pressure gauge, which is far better than the AstroAI Compressor Tire Inflator Portable Air Pump. The backlit digital LCD display helps you to monitor your tire pressure which can be converted into four different pressure units.
What makes Avid Power Tire Inflator unique is it's a gun-shaped cordless dual power device. It comes with a 20V, 1.5Ah rechargeable Lithium-ion battery pack, which is great for outdoor use. The battery pack also has a USB output with a real-time battery capacity indicator.
The only thing I have an issue with is the confusing instructions which can lead to faulty operation. It's not your regular compressor, so you might be confused about its operation.
Pros
High-accurate reading pressure gauge for your applications
The compact portable design and rechargeable battery make this great for outdoor bike emergency use
Auto shut-off system makes it safe to use and prevents overinflating
Cons
Charging the battery takes too long
Instructions and operation are confusing and may take some time to learn
Sale
AVID POWER Tire Inflator Air Compressor, 20V...
[Auto Shut Off] Simplicity meets functionality. AVID POWER car air pump provides you with...
[Dual Power Supply] 20V rechargeable Li-ion battery pack power supply and DC 12V power supply makes...
[Fast Inflation & Ergonomics] High-quality materials were sourced for this tire compressor as it can...
Best Bike Tires Air Compressor for Automatic Inflation: JACO SmartPro Automatic Tire Inflator
If you're looking for a compressor that does most of the job for you, the JACO SmartPro Automatic Tire Inflator is your best choice. It's a portable 12V inflator with everything you need to inflate tires.
What's great about this product is its pre-set function. The digital gauge allows you to set the target pressure, and it automatically turns off once it's reached. It's the same feature you get from the likes of the TEROMAS compressor and AVID POWER compressor.
It has a 12V power outlet that can also be used as a cigarette lighter. The device is convenient and easy to use. You only need to plug it in, set your PSI, and press the start button, and your device will do the work for you; all you have to do is observe.
This compressor can inflate bike tires easily as it can go up to 100 PSI and even easily inflate car tires. So you can use it flexibly if you have a car or other inflatables at home.
You also get a digital tire gauge much like the AVID POWER Tire Inflator Air Compressor. It does have accurate readings so you can monitor the inflating process properly.
You also get a 10-foot power cord that is extremely handy for its length. Even though bikes don't need that much length, they can be useful in some situations and very handy when handling cars since you can also use this for car tires.
The only downside with this product is that you might get a defective one. Luckily the manufacturer readily replaces faulty products.
Pros
The auto shut-off feature allows you to just sit back and let the device inflate for you
It can run for 30 minutes straight, which is great if you plan to inflate a large object or tire in bulk
Various handy features like an LCD display and pressure gauge make monitoring easy
Cons
It runs a bit loud, so it might not be good to operate if your neighbors don't like noises
Airflow could be improved because it feels underwhelming compared to the likes of TEROMAS compressor
Sale
JACO SmartPro 12V Tire Inflator Air Compressor -...
Smart 12v Tire Pump - simply pre-set the built-in digital gauge to your target pressure (PSI) & it...
High Accuracy - precision built-in digital air gauge features a bright LCD backlight display for...
Total Inflation Kit - the air pump features a long-reach 24 in. woven air hose with a durable brass...
Best Multifunction Air Compressor for Bike Tires: PI Store Air Compressor
PI Store Air Compressor has a lot of functionality and will be extremely useful for inflating bike tires. Bike tires need around 80 to 130 PSI to ensure durable tires. This compressor has a capacity of 150 PSI which is more than enough.
It pumps at 38 L/min and inflates a flat car tire in under 3 minutes. It's a minute faster compared to the TEROMAS Tire Inflator Air Compressor. It's the fastest on this list when it comes to pumping air.
You also don't have to worry about overinflating. It has an auto-shutoff feature that prevents it from overinflating. It automatically turns off when it reaches the desired pressure.
It also comes with a Schrader to Presta adaptor with four spare dust caps, so you can almost plug it into most outlets. You even have a carry bag for better portability and comfort.
Like the AVID POWER air compressor, it also has a digital pressure gauge with a backlit display. It helps you keep track of your tire pressure and allows you to determine when to stop inflating and when your tire needs more air.
It even has LED flashlight with 100 lumens which is enough for visibility. It's a great signal indicator for other cars at night.
The only problem I have with this product is its build quality. While it is a good compressor, it may only last for a while since it has poor build quality. You might need to handle it with care, and regular maintenance is necessary.
Pros
Multiple functions make it handy in most scenarios requiring air inflators
The fastest to pump air in this list which can fill up a flat car tire in under 3 minutes
Auto shut-off system prevents overinflating, which is really helpful for a compressor that can inflate fast
Cons
It may run a little louder than expected, which might be an issue for neighbors
It may break down easily because of average build quality
Sale
12V Air Compressor, PI Store Tire Inflator,...
【Fast inflate】Skip the gas station - this portable air compressor will quickly inflate your...
【Simple use】Our car tire pump is easy to use; start the engine, power by a 12V cigarette lighter...
【Night Visibility】Equipped with a built-in LED light and red SOS light, this air pump for car...
Features to Consider for Air Compressor for Bike Tires
The compressor should have features that can be useful for inflating bike tires. Here are some of the qualities you should be looking for in compressors used for bicycle tires.
Auto Shut-off
The auto shut-off is a regular feature that most compressors have. If your compressor doesn't have one, you might consider getting a new one with this feature.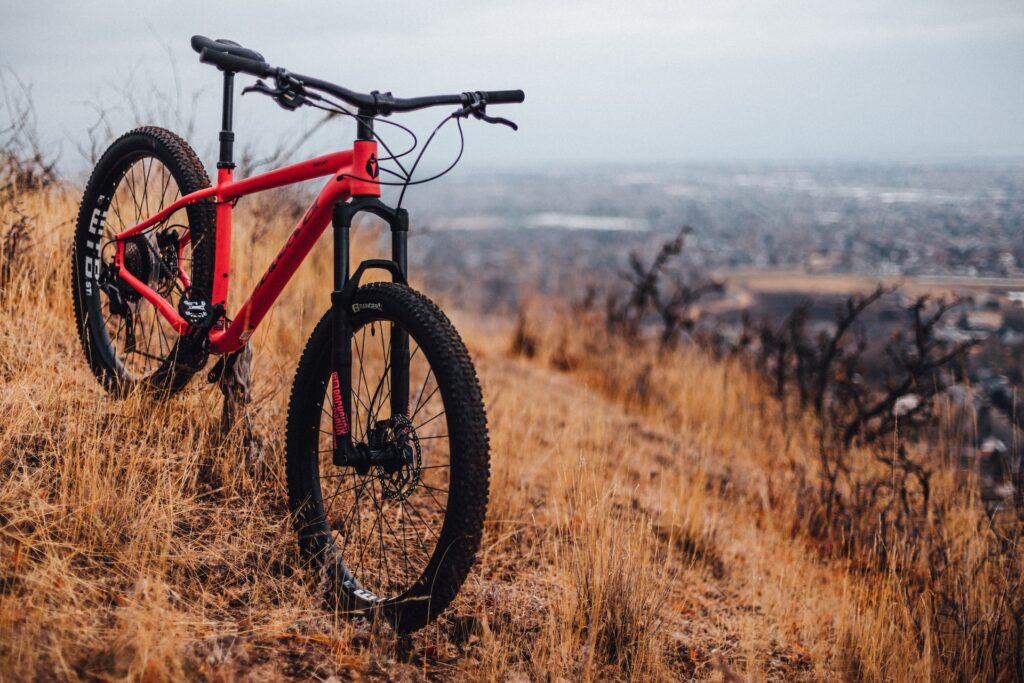 This feature prevents you from hyperinflating your tires so they won't get damaged once used. It automatically shuts down once you reach your pre-set PSI.
The JACO SmartPro compressor has the best auto shut-off feature on the list. It's easy to operate, and you can just sit back and watch while the compressor fills your bike tires with air.
Digital Gauge
A digital gauge allows you to accurately monitor the desired pressure of the application if it goes smoothly. Hence, you won't have to redo the application sooner because of some inaccuracies.
Most modern compressors use the digital gauge, while some of the old ones still use the analog pressure gauge. Personally, a digital gauge provides a more accurate reading, so I prefer having those.
The AVID POWER compressor has the best interface for a digital pressure gauge. It provides the necessary information that you need to properly use the compressor to inflate bike tires.
Build Quality
Build quality is also a must if you want your compressor to last longer. Choose one that has a reputable review on its durability and build quality. It will be rare to see a compressor built for tires be made of metal since they are designed to be lightweight.
If you want the best build quality, go for the TEROMAS compressor, which has a great overall build and will last years with regular use and maintenance.
Portability
Since I'm dealing with tires, the compressor should be lightweight and portable so you can carry it with you while biking. Most of the compressors on this list have a compact and lightweight design, so they are all portable.
If you really want to hit the right spot, look for a compressor with a weight not exceeding 4 pounds. The sweet spot would be around 2 pounds.
The AstroAI compressor is the optimal choice combining lightweight, portability, ease of use, and effectiveness.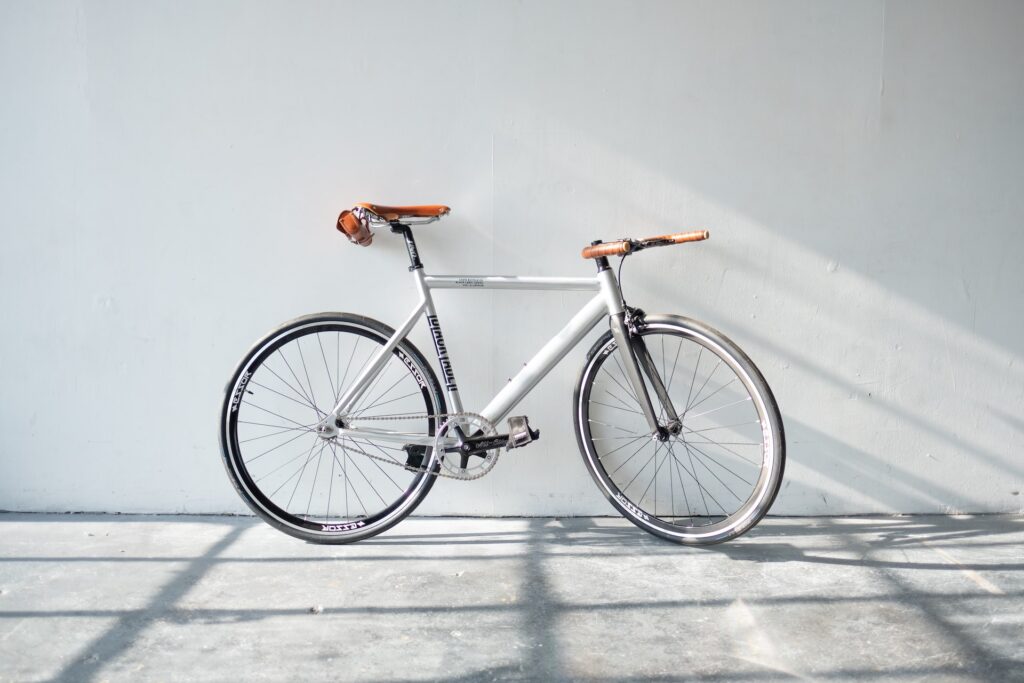 Setting Up Your Air Compressor for Bike Tires
If you have decided on what compressor to get, you should always check the manual of it first. Compressors may have different ways of operating, especially the popular ones who are looking to one-up the competition.
Most compressors add adjustments to the filling pressure in the form of a shut-off to control the motor when to stop adding air to the tank. Make sure you don't overuse your compressor if it's less than 90 PSI, as it can be taxing to it.
You also need to drain your compressor tank regularly. Compressed air contains moisture that accumulates inside the tank and turns into liquid. This can form rust, especially with steel tanks. That's why most brands would recommend emptying the tank after every use.
Also, when you've set up your compressor, it's important to wear safety glasses as debris can fly around unexpectedly, and you're dealing with tires and compressed air.
Tools You Need For Inflating Bike Tires with an Air Compressor
Some compressor machines have an accessory kit with them when you buy them. If you're the ones who don't have one, you'll have to get one. Still, with or without accessories, you should know what they are and how to use them.
The first one would be the air hose. Most compressors have a built-in air hose, or it is usually coupled with the compressor when you buy them. You will need one long enough to reach your desired working area for your bike tires.
This is usually not a problem since bikes are fairly small and bike tires are easy to move around. You would probably get a spiral hose that remains compact when not used and good enough to provide that extra length.
If you have a wall or ceiling to mount to, then an automatic air hose reel is better for you. It works like an auto-retract garden hose reel and provides the length you generally need.
Another tool or accessory to get is adapters or fittings. You would generally need "male" adapters that thread into your air tools. Ensure the adapters or fittings are compatible with the air hose and compressor you buy.
You might also consider getting a blowgun for cleaning and drying. Blowguns can be dangerous if mishandled, so make sure that you practice safety and proper handling. Blowguns are mainly used for cleaning bike tires, so it's easier to find any holes that might affect your inflation process.
Lastly, you would need a tire inflator tool that is compatible with your bike tires.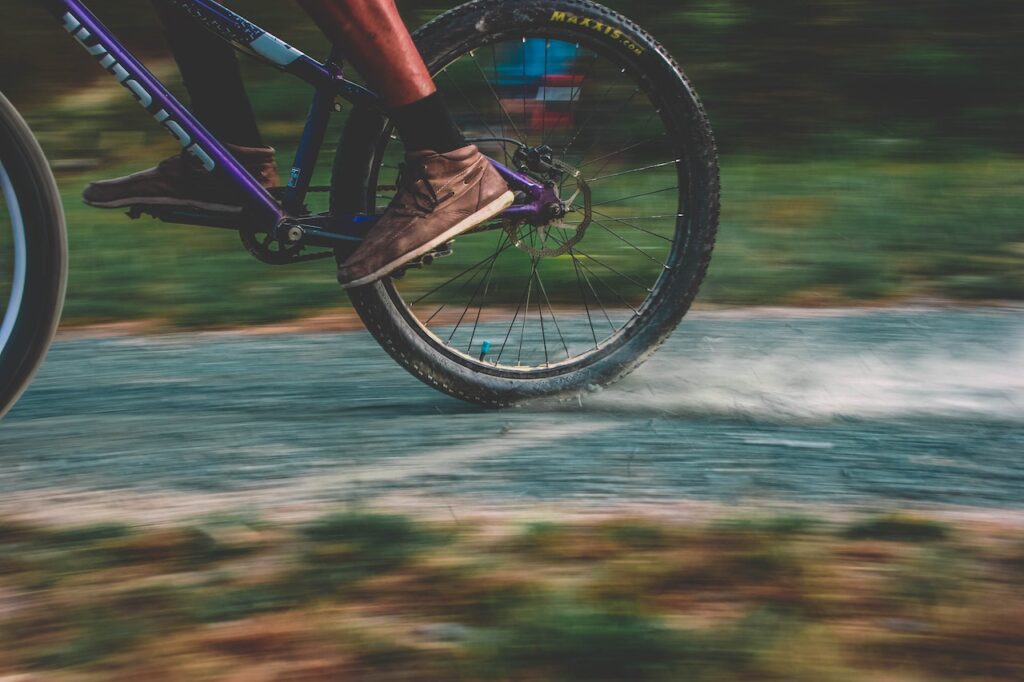 Frequently Asked Questions
What Size Air Compressor Do I Need for Bike Tires?
Is 40 PSI Too High for Bike?
Most manufacturers recommend between 30 to 50 PSI for most bike tires. 50 PSI tilts more towards on-road bike tires and 30 PSI for off-road bike tires.
What PSI Do Pro Cyclists Use?
The PSI pro cyclists use depends on the road surface. Most pro cyclists use 100 PSI to 110 max PSI on their bike tires.
Conclusion
The best compressor for bike tires is those that are lightweight and portable. They aren't as good as regular compressors. However, they are built just for inflating bike tires. Some of them can even be used for other applications.