As an Amazon Associate we earn from qualifying purchases.
6 gallon air compressors are a great option for household or portable use with many applications. If you're looking to get the best 6 gallon air compressor, take a look at the list we've compiled that may have the features that you're looking for.
Our Top 6 Gallon Air Compressor Reviews
6 gallon compressors are mainly used for heavy applications because it has a larger volume capacity and PSI. These things are necessary if you want to work on demanding pneumatic tools like nail guns, wrenches, and air hammers.
Below are some of the best 6 gallon air compressors you can find on the internet. Each of them has its own unique thing to offer.
Best Overall 6 Gallon Air Compressor: BOSTITCH Pancake Air Compressor
The BOSTITCH Pancake Air Compressor is an excellent option if you want an all-rounder 6 gallon compressor.
This BOSTITCH pancake compressor is one of the lightest on this list, weighing only just 29 pounds. You can transport and carry it easily because of its lightweight and portability. However, being light also means it's less durable. One thing to note is that it's durable in the right parts.
The handle is plastic which they preferably could've used as a metallic material. Anyways, the handle has great ergonomics, so it makes it easier to carry around. It's located at the center of the compressor, which evens out the weight distribution.
It has a compact design which is comparably more compact than other 6 gallon compressors on this list. This is thanks to its pancake design that most 6 gallon compressors now follow.
The tank can hold 6 gallons and can operate under a maximum pressure of 150 PSI. it can handle the most demanding pneumatic tools.
It operates oil-free, so you won't have to spend on oil maintenance. It also requires less maintenance, so you won't have to spend more time doing maintenance.
You can also connect two air tools at the same time thanks to its two quick connect fittings.
Overall, the BOSTITCH performs solid and consistently, which makes it the best overall on our list.
Pros
High PSI rating of 150, which is great for most pneumatic tools
Oil-free compressor so you can do less maintenance
High-flow regulator for better performance
Cons
The drain design could've been better
The drain valve isn't auto shut off, so you have to manually check every use
Best Oil-Free 6 Gallon Air Compressor: DEWALT Pancake Air Compressor
The DEWALT Pancake Air Compressor has an oil-free configuration making it easy to maintain and requires less maintenance.
Like the BOSTITCH Pancake Compressor, it also has a pancake design which may be a common theme among 6 gallon compressors.
This compressor can handle small tasks with ease and are great for short bursts of pressurized. It's a little bit heavier than BOSTITCH Pancake Compressor, weighing in at 30 pounds.
There's also a rubber along the bottom end for stability. It prevents the compressor from moving as you do your applications.
The maximum air pressure of this compressor is 165 PSI. this is a bit more compared to regular 6 gallon compressors, which run around 150 PSI.
There's a special valve that ensures the air pressure will not go over the allowed maximum of 165 PSI. the compressor motor also auto kick-start when the air pressure goes below 135 PSI. It's thanks to a built-in pressure switch for this safety feature.
You also get thermal overload protection that protects the compressor from overheating, so it will be useful for years to come.
Thanks to its oil-free build, this compressor can go for many maintenance-free applications before needing to do a checkup.
The downside we can only say for this is that it can run loud. Overall, it's a great 6 gallon oil-free compressor if you don't want to do maintenance from time to time.
Pros
High max PSI of 165 to handle most pneumatic tools
Lightweight build weighing only 30 pounds, so easy to carry around
It can support two air tools thanks to its two universal couplers, which is great for multitasking
Cons
It can run loud, so it's not good for home use
It can sometimes go to 175 PSI which might become a problem
Best High PSI 6 Gallon Air Compressor: Metabo HPT Air Tank Compressor
If you want to have the highest PSI for your 6 gallon compressor, the Metabo HPT Air Tank Compressor is a great option. This compressor can run up to 200 PSI and can produce 4 CFM at 90 PSI.
This 6 gallon compressor is a lot different from regular 6 gallon compressors already since it can run at such high maximum PSI. Take note that most 6 gallon compressors only run at 150 PSI.
The Metabo HPT Air Tank Compressor can work two framing nailers at once with no problem. Much like how the DEWALT and BOSTITCH compressors have two extra couplers. The Metabo performs better thanks to its PSI.
Although this compressor works fast, it also comes at the cost of being loud. This can be a huge downside if you live in a close neighborhood. You might get some noise complaints if you don't tell your neighbors about it.
It also has an oil-free design, so it takes less maintenance time and frequency. Another thing that might be a downside is its robust build. This compressor weighs around 41 pounds which makes it heavier than the previous two compressors on this list.
Overall, it's a great high-PSI 6 gallon compressor for multiple application use and heavy pneumatic tool use.
Pros
Can run two framing nailers with ease
High PSI for more air delivery compared to 150 PSI compressors
Durable build design with an all-metal handle
Cons
Robust build and is a bit heavier than most 6 gallon compressor
Runs very loud, so not good for home use
Best Quiet 6 Gallon Air Compressor: California Air Tools 6010LFC Industrial Air Compressor
The California Air Tools 6010LFC Industrial Air Compressor is the quietest option on this list. It is designed to be so, and it's proven as it only runs at around 70 decibels of sound. Compared to other compressors on this list which can go 80 and even 90 decibels, this one is fairly quiet.
It uses a powerful 2.0 HP motor that runs at 1680 RPM and does not create much noise, and is even less prone to wear.
You also have the oil-free dual piston pump system. The oil-free feature is common among the compressors on this list, and it's become a regular feature for 6 gallon compressors. However, this pump system is more durable and can even work in cold temperatures.
This compressor has a minimum life span of 4,000 hours of use which can be lower if not used properly and maintained properly.
Pros
Has wheels and a handle for better movement
Runs quietly at only 60 decibels
It can last for a long time thanks to its dual piston pump system
Cons
It may have some defective parts
Hard to operate at first
Best 6 Gallon Air Compressor with Multiple Accessories: CRAFTSMAN Air Compressor
With plenty of accessories, the CRAFTSMAN CMEC6150K Air Compressor is one of the more complete models on this list. It is durable and oil-free, so it requires less maintenance than other options.
It has a great build and durable quality, so you should expect it to last quite a while. The motor starts up fast, even in colder weather. It has 150 PSI max, similar to that of the BOSTITCH pancake air compressor. This makes it moderately powerful, especially when compared to other options on the market.
It comes with some useful accessories. It includes a PVC air hose, blowgun, and similar tools. This compressor is equipped with most accessories that are useful for almost every application. It saves you a lot from spending on extra accessories.
It is portable and weighs around 32.5 pounds. It's even lighter than the portable Campbell Hausfeld Portable Quiet Air Compressor. However, it doesn't pack the same power. Even though it claims to have a quick recovery time, it doesn't seem to be the case in the actual application.
Overall, it's great for home use and can be used in almost any applications you can do at home. The accessories are really helpful, especially for filling tires with air. Another thing that you might complain about is its lack of wheels.
Pros
Includes a lot of accessories for different applications
Durable build quality if you want a compressor that lasts long
Oil-free, so you won't have to spend more time doing maintenance and spending on maintenance products.
Cons
Some parts may be defective or get broken easily
It can make a lot of noise during operation
Best Portable 6 Gallon Air Compressor: Campbell Hausfeld Portable Quiet Air Compressor
If you want something that is easy to handle and carry, the Campbell Hausfeld Quiet Compressor is the best portable choice. It also runs quietly and can compete as the quietest air compressor with the California Air Tools 6010LFC Industrial Air Compressor.
While it does claim to produce low decibels, as low as 68, we still favor the California Air Tools Air Compressor for its power-to-noise ratio. Whereas the good thing about this compressor is that it runs quietly while being portable at the same time.
It's also oil-free, so it requires less maintenance. It has the same PSI rating as that of the California Air Tools Air Compressor at 125. However, we find the California Air Tools to run quieter in actual use.
It's great for indoor use, and its portability makes it great for hard-to-reach places. It's also handy and great to bring along in your car in case your tire needs some air.
It has a pancake shape which helps to prevent it from falling over. This is useful for a portable compressor that always has to be placed in different areas. You even get a steel handle with a soft grip that makes it comfortable to carry around.
The only bad thing about this compressor is that it doesn't have wheels. For a portable compressor, having wheels should be helpful, especially for a 6 gallon compressor. It weighs around 62 pounds which isn't exactly lightweight so having wheels would be helpful.
Pros
Runs really quietly, so you can use it in your home without any worries
The pancake shape makes it stable for bringing it over on many applications
Steel and soft grip handle for comfortable portability
Cons
It may have poor packaging or defective parts
Does not have wheels and may be heavy for its portability
Features to Consider for 6 Gallon Air Compressor
Oil-Free
Oil-free compressors mean you will have less time to allocate for maintenance. This also means you won't need to buy or change oil for maintenance. Having an oil-free compressor has its own benefits.
However, don't use it for heavy-duty applications, or you will lower its lifespan drastically. For 6 gallon compressors, oil-free is the way to go.
The DEWALT Pancake Air Compressor has the best oil-free build design. It rarely requires maintenance and will last for a long time.
Accessories
Some compressors come with accessories that can be useful for some applications. Some of these accessories you probably don't have at home, so it's a great deal if you can get them along with your compressor to save cost.
Accessories are necessary to operate the compressor properly. However, they can be quite expensive if bought separately, so having them as freebies from your compressor is great.
For accessories, the CRAFTSMAN air compressor has most of the accessories needed for common applications. If you want to save, then go for this compressor so you won't have to spend on getting compressor accessories.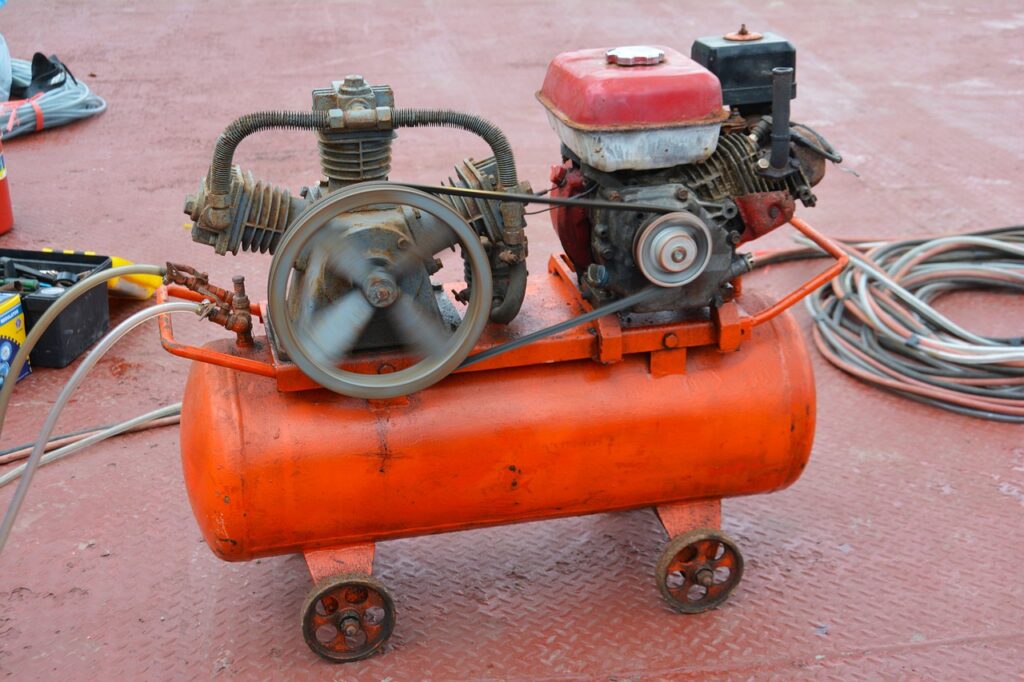 Portability
If you're buying a 6 gallon compressor, there's a high chance you're gonna carry it a lot since it's made for lightweight use. Portability is essential, especially in some applications that cover wide areas.
Some features like handles and wheels make a compressor portable even though they are on the heavy side. However, make sure that the handles or wheels are of high quality also.
When it comes to portability, the Campbell Hausfeld air compressor is great. Even though it weighs around 60 pounds, the comfortable handle makes it easy to carry. Other compressors don't have to handle and operate the same way as this compressor.
Noise
6 gallon compressors can run loud, and they can go very loud. Hence, choose a compressor that does not run loud if you are concerned with how much noise it will make. You probably place this as a priority if you live in a neighborhood where they can hear easily.
If you want a quiet compressor, either the Campbell Hausfeld compressor or the California Air Tools compressor is an excellent option. They run between 68 to 70 decibels which is quiet compared to other 6 gallon compressors.
Frequently Asked Questions
Who Makes the Best 6 Gallon Pancake Air Compressor?
It depends on the product and not the manufacturer. There are many air compressor manufacturers like Craftsman, Bostitch, and Porter-Cable that make quality 6 gallon pancake air compressor products from time to time.
Is 6 Gallon Air Compressor Enough?
6 gallon air compressor is enough for most tasks. It's a perfect balance of portability and function, with it being able to handle most pneumatic tools. 
What Can I Use a 6 Gallon Air Compressor For?
You can use a 6 gallon air compressor for tools that require quick bursts of air. Examples of this would be pneumatic brad nail guns and finish nail guns.
Conclusion
6 gallon compressors are a great addition for people who like to do their own projects at home. The compressors listed above have their own unique features, which you might find useful for your project.